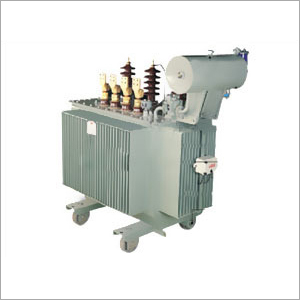 Power Distribution Transformer
Price And Quantity
Product Specifications
Product Description
These Power Distribution Transformer are used in for industrial, substation & distribution sector. They have a range up to 10 MVA, and voltage up to 33kv. Our Distribution Transformer comes with an automatic on/off cooling system. We offer this high performing transformer, which has been appreciated a lot by our previous clients.
Features :

Able to withstand Impulse Voltage and Short Circuit tests as per IS/IEC
Excellent finish of powder coating.
Available as completely self protected (csp) type.
Designed to meet customized specifications as per requirement.
Available as Corrugated Hermetically Sealed Type which is compact in size
Various ratings type tested from NABL accredited labs
Advantages Of Power Distribution Transformer :

Sustaining short circuit forces without any distortion in low voltage and high current windings.
Hot spot in Low Voltage windings regulated
No transposition, stray losses are minimal. Thus total copper losses are also further reduced
Total copper losses reduced vis-a-vis standard losses. Thus heat dissipating area also red
TECHNICAL SPECIFICATIONS
Voltages
1 Phase, up to 33 KV
3 Phase from 433 to 11000 V
Frequency
50/60 Hz
Applicable Standards
IS 2026, IEC 76, ANSI.C.57, as per customer requirement
Core
Wound or Stack
CRGO Steel or Amorphous Metal
Winding
Copper foil
Insulating Fluid
Mineral Oil, both inhibited & uninhibited, as per IS/IEC
Class of Insulation
Class A
Tap Changer
"Off Circuit Manually Operated"(OCMO) and "On Load Tap Changer" (OLTC) with AVR and RTCC panel.